12 Days of Stories: Support JMCC this Holiday Season
December 1, 2020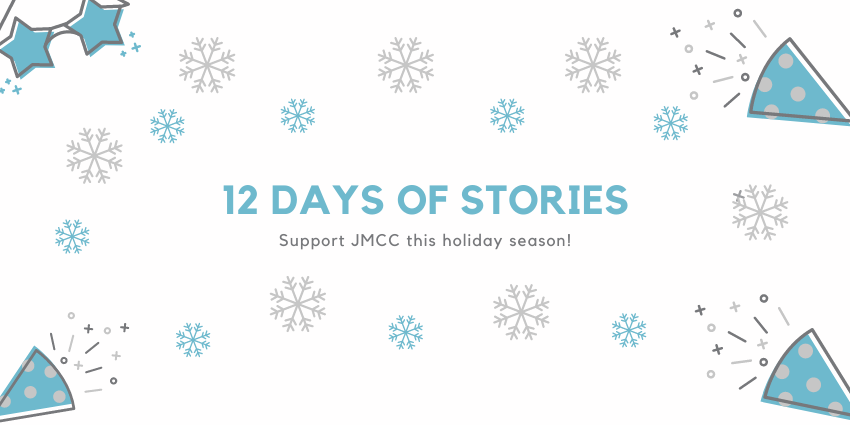 Happy Holidays from all of us here at the John McGivney Children's Centre (JMCC). We are proud to serve Windsor and Essex County, enriching the lives of children and youth with special needs by helping them reach their full potential. This has been a year like no other, and we are extremely proud of our staff and our clients and families for their adaptability during these uncertain times. With the introduction of virtual services in March, and our slow re-introduction of safe, face-to-face services throughout the summer and the fall, we are now able to offer our families a mix of both virtual and face-to-face services, allowing us to provide the best and the safest service options for them. Our clients and their families are at the heart of everything that we do and it is our pleasure to share with you excerpts from some of our inspirational client family stories featured as part of our 12 Days of Stories Campaign.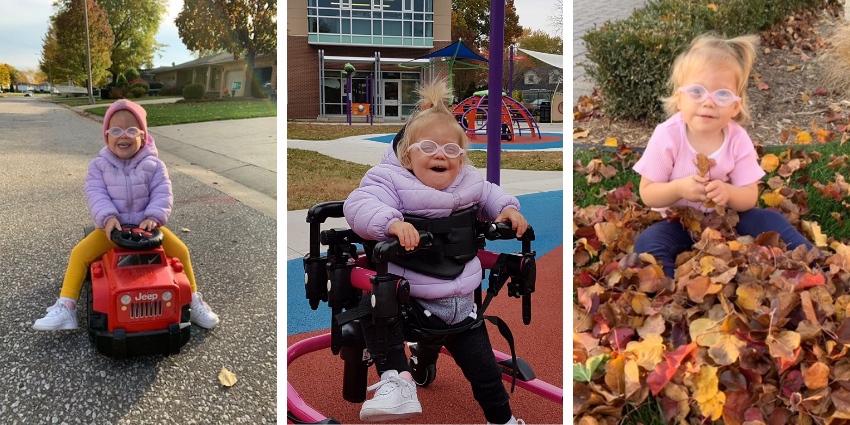 "Our introduction to JMCC came when our daughter Zoe was only 8 months old. It was fairly obvious early on that she was not meeting many of her developmental milestones and we started on our path to finding explanations and ultimately the answers to why our daughter was having these delays. This was not an easy journey to go down and the concerns of what challenges our family may face weighed very heavily. However, the staff at JMCC were with us each step of the way. Our daughter's therapy team provided her with the support and resources she needed to ensure that she had every opportunity to meet and overcome her challenges. Not only has the team been there to support our daughter but they have been there to support our whole family. The team have been constant advocates for our daughter and have gone above and beyond to assist in this journey. Whether that be facilitating referrals to specialists, coordinating the purchase of medical devices or to just be there for our family when we received the answers to some of the tough questions we were waiting for. Even during these very challenging and unique times, our daughter's therapy team and the staff at JMCC, have been able to adapt quickly to make sure that the people who rely on them are still being reached. The team has been able to maintain their support in the form of virtual therapy sessions or safe in person visits. By having the ability to provide their services through multiple formats, the team has continued to be there for our family. We are incredibly grateful for everything JMCC has done for us."
- Zoe's family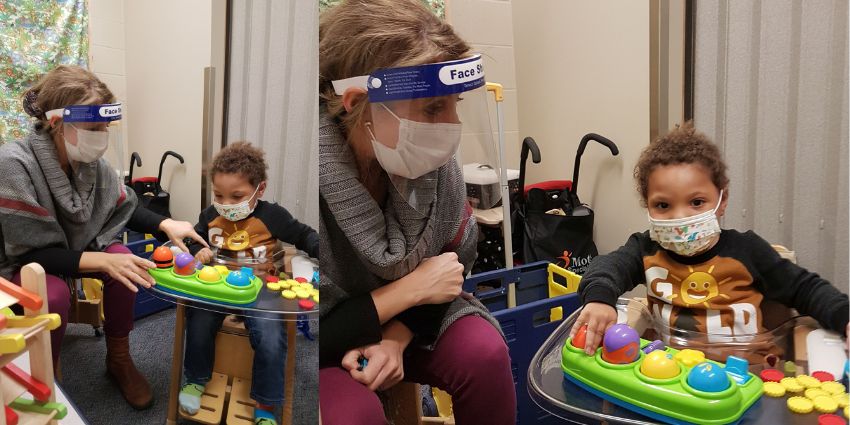 Cameron's JMCC team is an extension of our family. They have helped my son achieve important milestones, but they've also helped me learn how I can continue to work with him at home. When COVID hit, nothing stopped. The JMCC team is always available to us either through virtual therapy, by email and safely, in person.
- Christina, Cameron's mom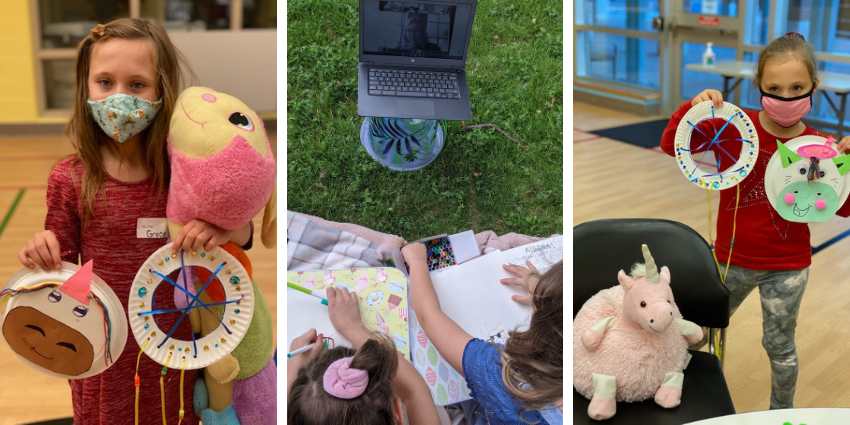 Therapeutic Recreation at JMCC has helped my girls gain self confidence in their abilities. They enjoy the programs whether they be virtual or in person. The programming is dynamic, well-planned and focuses on the strengths of each participant. When we had to switch to a virtual mode of delivery, Grace and Natalie were grateful to still be able to see their friends. Each week they looked forward to a treasure hunt and art activity or just some fun conversation with friends. During the summer the girls especially enjoyed doing the classes outside. One of their favourite memories of the summer was sitting under their climber in the yard and drawing to music with Mallory. There were a lot of smiles and laughter that day. We are thankful because these programs have given the girls a chance to be creative, connect with friends and learn new skills.
-
Heather, Grace & Natalie's mom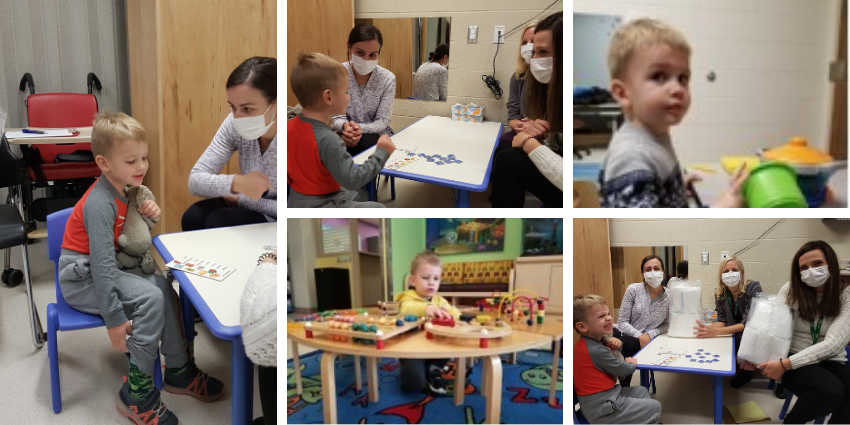 Marek is a happy and bright 3 ½ year old boy. Because of a stroke he suffered a year ago, he requires therapy to regain his strength and assist with his speech. We were overwhelmed with the journey ahead but once we met the JMCC team who would become family to us, we quickly realized we were not the only ones advocating for Marek's best interest. The activities chosen are specific to what he enjoys and therefore he eagerly takes part in therapy. On days where the process is challenging or overwhelming, it is not just Marek who receives support but me as well. The encouragement, understanding and knowledge that is exhibited in each therapy session, is what makes us strive to meet each goal. Covid may have slowed the world down, but not Marek's team of amazing therapists, who adapted to this change with ease. Marek's gains have caught the eye of all his loved ones and we ensure everyone that we truly could not have done it without his "friends", our family at JMCC.
- Lucy, Marek's mom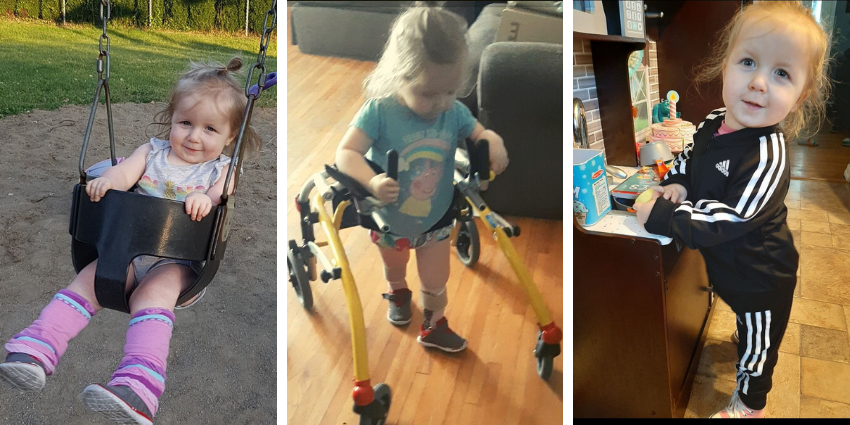 Sweet Ainsley was born in 2017 with a rare muscle and joint condition called Arthrogryposis. She has been receiving services through JMCC since she was just two months old and from day one, she has exceeded expectations. It is so exciting to see Ainsley walking now with the help of her walker. I don't know where we would be without our second family at JMCC!
- Amanda, Ainsley's mom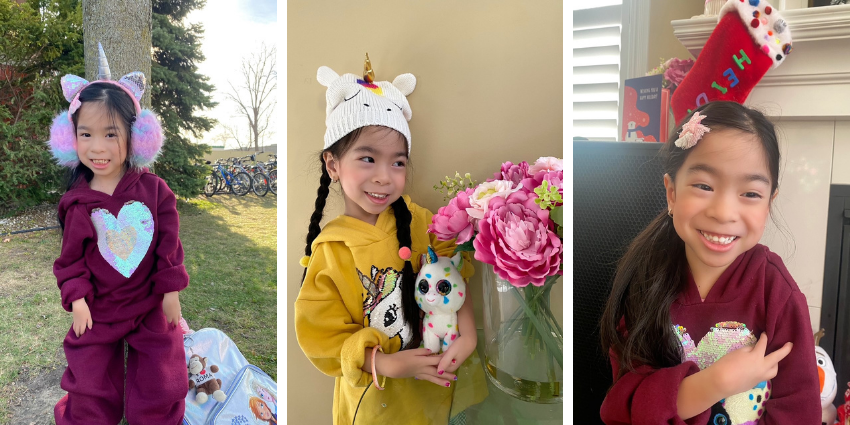 Heidi is loving school this year and we are so happy! This was an important goal and we are thankful to the amazing JMCC team!
-Helene, Heidi's mom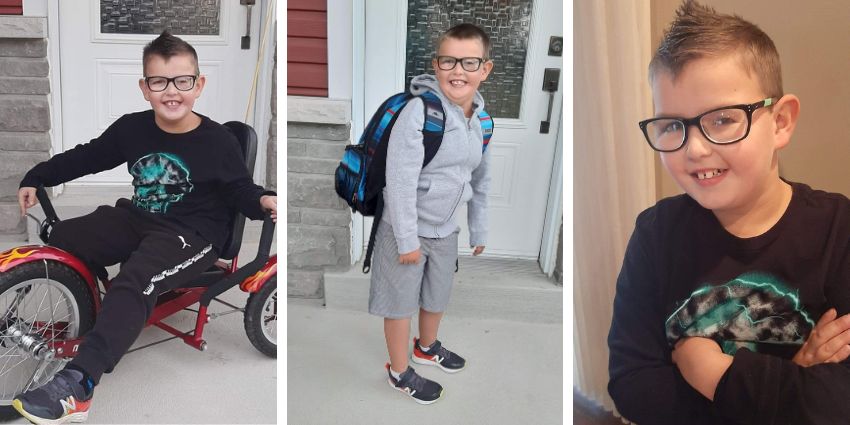 Our son Liam has been involved with the JMCC since he began school. Liam and our family have been fortunate to work with incredible and compassionate staff who have helped Liam build confidence to achieve goals and work to his full potential. We are sincerely appreciative for all the help and guidance that the JMCC team has provided to Liam and our family.
- Stacey, Liam's mom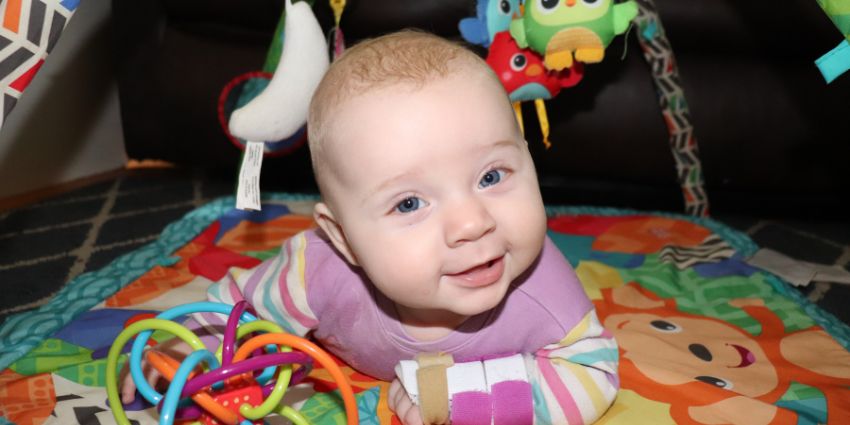 When Hailey was born she was diagnosed with a brachial plexus injury/Erbs palsy. Although her birth wasn't traumatic, she somehow suffered this injury that resulted in her arm being completely motionless. Since the first day of her life we've been working hard to do everything she needs and she has been a champ the whole time. Her first therapy appointment was when she was just 2 weeks old and since then we've done her exercises every single day. In a few short months she has defied the odds and started moving her arm all thanks to her Occupational Therapist Melanie, who not only supported Hailey with her rehabilitation but also made custom fit wrist braces to help extend and stretch her wrist. Hailey has been showing great progress from the smallest flicker of movement to lifting and holding her arm and now starting to open her hand and move her fingers. Every day she amazes me with how strong she is and how she doesn't let it hold her back. Despite her challenges, by 3.5 months old she was holding her head up, rolling all the way over and working on her motor skills. Now at 4.5 months she is trying to push herself forward and lift herself off her tummy to crawl. Although we are only part way through her journey, we are hopeful that with the help of the John McGivney Children's Centre, her arm movement will get better and better. Her future is bright and we know she will accomplish anything and everything she wants to do. She is the happiest baby and we are so blessed to have her.
- Tabbitha, Hailey's mom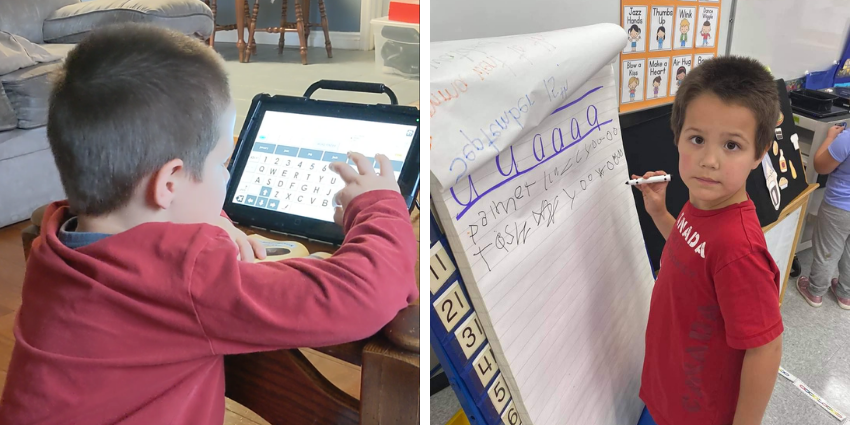 John is a very happy 5-year-old nonverbal autistic boy. We began our JMCC journey just before the COVID pandemic happened. Due to this chaos, everything was uncertain regarding if and when John would receive an assessment for his compatibility using an augmentative & alternative communication (AAC) device. The JMCC team was amazing at jumping quickly into virtual meetings to assess John and our family to see if an AAC device would be an option for us. John participated in several virtual meetings and some safe, in person meetings before it was decided that he would be a nice fit for an AAC device. He has progressed nicely with the device. He quickly learned how to communicate "no", "stop" and "don't", when he did not want to do something. He also enjoys typing new words he is learning at school on the keyboard section of the AAC. John loves to learn new things in his daily routine and his AAC device is now part of that routine. We look forward to all that JMCC & his AAC device will bring him in the future.
- John's family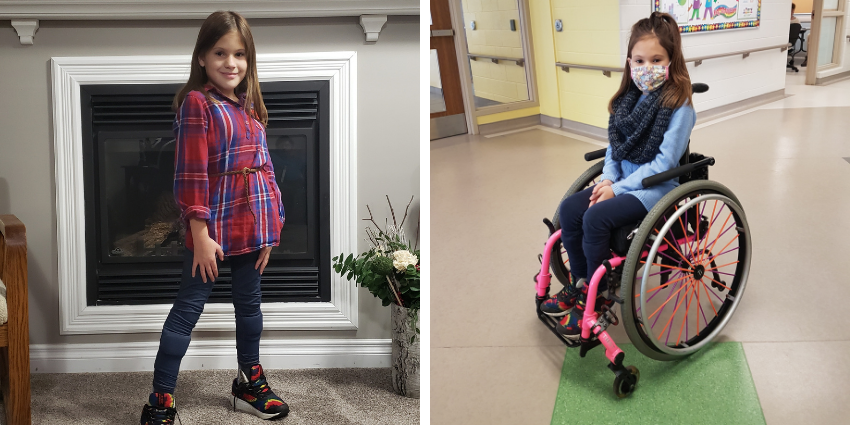 "I come to JMCC and play and do exercises with my physiotherapist. Sometimes, I even get to ride a bike. I know these exercises are important so I can keep getting stronger and doing all the things I love to do!"
- JMCC kid Payton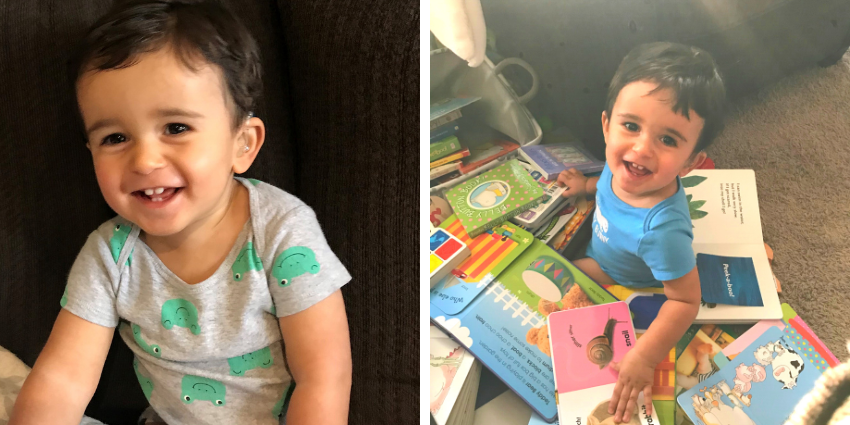 My son Dominic is 18 months old now, but started receiving services from JMCC when he was 6 months old. He receives speech therapy because he is deaf in one ear. This was scary and quite overwhelming in the beginning. I was always concerned how his speech would be affected. However, his speech therapist Nancy has been great and very supportive and has assisted Dominic in his speech and language development. Dominic can be a little shy at first in his sessions, but quickly becomes very comfortable and ends up having such a great time at every speech therapy session. Also, I am always provided with great feedback and ways to work on enhancing his speech and language development at home. If he ever needs a little more help, they make sure to increase his sessions to ensure he doesn't fall behind. Dominic has also received some physiotherapy sessions at JMCC as well to assist his mobility. All of the therapists that have worked with Dominic have been so great with us. Even when everything was shut down due to COVID, the Centre still offered phone or virtual appointments. They were very accommodating and it was a relief to know my son was still being looked after, and that he still had resources available to him. When the Centre reopened for in-person visits, they ensured that proper safety precautions were in place, which made me feel very comfortable bringing Dominic for his appointments. I am so grateful to everyone at JMCC for their dedication and for assisting and supporting my son and our family.
-
Sabrina, Dominic's mom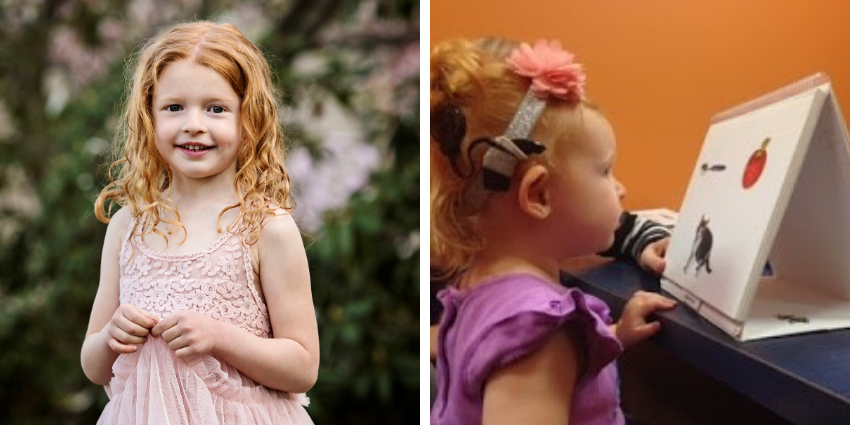 My daughter wouldn't be where she is without the support & dedication from the speech therapy and social work programs at John McGivney Children's Centre.
- Noel, Paisley's mom
Through the support of our donors and community partners, we are able to continue to offer the best family-centred services and support to our clients and their families, like those featured in our 12 Days of Stories Campaign, who drive the work that we do each and every day.. By supporting JMCC this holiday season, you are supporting families.
Donate to JMCC today!
At JMCC, we strive to be a centre of hope, support and inspiration for children and youth with special needs and their families. Together, we're working toward a future of participation, acceptance and opportunities. Your support of our Centre is greatly appreciated. We couldn't do what we do without the generosity of donors and community partners like you! Thank you for your support. Wishing you and yours a joyous and safe holiday season and a very happy New Year!
Return to News