John McGivney
In Memory of Our Founding Father, John McGivney
September 27, 1922 - May 8, 2014

John McGivney dedicated his life to volunteering in Windsor-Essex, a commitment that spanned nearly six decades from 1955-2014. His legacy is his humble and caring nature, a man who always put others before himself and who vigorously worked to better the lives of children in our community.

Born in Manhattan, New York in 1922, McGivney moved to Toronto where he completed his law degree at the University of Toronto. During WWII he served as a pilot with the Royal Canadian Air Force, as a flight navigator on missions to Africa, England, Italy and the middle East. In 1955, McGivney moved to Windsor, joining the Rotary Club of Windsor (1918) and the following year accepted a corporate lawyer position with Chrysler Canada (now FCA).

Immediately McGivney became fully immersed in the Windsor-Essex community, working with Rotary to support several local initiatives and projects. The inadequate resources and facilities for local children with disabilities and their families soon became a priority for McGivney, beginning his mission to provide better quality of life. In 1965, Rotary formed a planning committee which focused on building a new facility for children with disabilities in Windsor-Essex. McGivney served as chairman of the committee and worked tirelessly to fundraise and inspire donors to support the project. His successful commitment resulted in The Children's Rehabilitation Centre of Essex County being built in 1978.

McGivney continued to dedicate many hours to the Centre, visiting with children and families and striving to continuously improve the services offered. In the mid-1990s, when it became evident the Centre needed more adequate space, McGivney again served, advocating for the required funding from the Ontario government and spearheading a multi-million dollar capital project, resulting in an expanded and renovated facility that opened in 2010. McGivney was a member of the board of directors from 1978-2011, devoting his heart and soul to the Centre and its community. In 2006, to recognize McGivney's lifetime commitment, the Centre was officially renamed the John McGivney Children's Centre.

McGivney served the Windsor-Essex community in various other ways as well. He was a member of the Rotary Club of Windsor (1918) from 1955-2014, serving a term as president, and also serving with the Windsor Chamber of Commerce. He was a member of the University of Windsor Board of Governors from 1975-1984, receiving the Clark Award in 1994 for outstanding community service. In the mid-1960s McGivney chaired the United Way Windsor/Essex community campaign, diversifying campaign strategies and maintaining successful fundraising efforts. He also served with the Windsor Police Commission, St. Mark's by the Lake Anglican Church, and Princess Anne School. In recognition of this outstanding support for his community, McGivney was awarded the Governor General's Outstanding Canadian Award in 2012.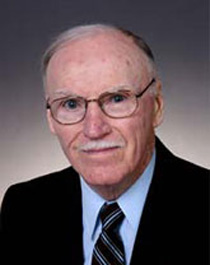 Our Founding Father, John McGivney