The Latest JMCC COVID-19 Update - January 2022
January 6, 2022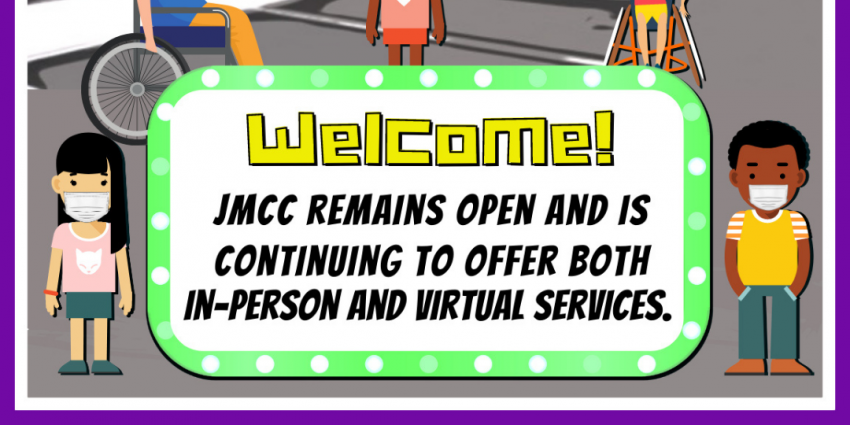 To our families and the community,

As we enter 2022, we would like to extend our best wishes to all. As COVID-19 remains an ongoing concern, with the Omicron variant presenting new issues, we want to assure everyone that our top priority is providing critical services to children, youth, and families, in a safe and healthy way. JMCC is continuing to provide services both in-person, and virtually by request, in order to meet everyone's needs.

We remain diligent in our strict health and safety protocols, which have served us well to keep everyone safe. At JMCC, we have taken our guidance from public health, the Ontario government, and our ministries, and we have all taken the utmost care in the best interests of our clients, and each other. These efforts will allow JMCC to remain open and continue to be there when our clients and families need us the most in a safe, clean, and welcoming environment.

COVID-19 Immunization
As a vulnerable population, many of our clients are at risk of severe illness should they contract COVID-19. Unfortunately, due to age and health status, some of our JMCC kids are not eligible for a COVID-19 vaccine. This is why we must do everything we can to protect the kids and families we serve, and each other. It is why our health and safety protocols have been so stringent and it is why we advocated for early access to vaccines for our team members.

COVID-19 vaccines are a scientifically-proven key means in keeping COVID-19 at bay and in keeping ourselves, kids and families, and each other safe. Given the responsibility we have toward our clients, and based on the directive received from MCCSS, JMCC implemented a COVID-19 Immunization Policy. 97.9% of our staff are fully vaccinated. Staff who have a valid exemption are required to undergo rapid testing. We are committed to working with all of our team members to adhere to this policy. The policy applies to all employees, contractors, volunteers and students of the Centre.

Ongoing Health & Safety Protocols
We are continuing to adhere to all existing health and safety protocols for everyone attending the Centre, which includes social distancing, masking and pre-screening.

For our clients and their families, we recommend that only one parent/caregiver accompany a child to the appointment. Staff will review the signs and symptoms of COVID-19 with you and you will be asked to respect all physical distancing and associated safety guidelines. Our staff will be wearing personal protective equipment (PPE), appropriate for the work they are doing, according to public health guidelines. Also, we ask that all those entering the Centre, over the age of two, who are able, wear a mask or face covering. If you do not have one, we can provide you with one. For more information, please review our Keeping Everyone Safe document and our Keeping Everyone Safe at JMCC video.

In-Person and Virtual Services
Since the beginning of the COVID-19 pandemic, JMCC has been providing in-person and virtual therapy sessions. We continue to offer the choice of in-person or virtual, or a combination of the two. Should families wish to change the way they receive their treatment they can simply let their therapist know, or call our main line at 519-252-7281 and we're happy to accommodate you.

Thank you and be well.
Return to News