The John McGivney Children's Centre Board of Directors is very pleased to announce the appointment of Ms. Jennifer Jovanovski as the organization's next Chief Executive Officer (CEO)
August 1, 2023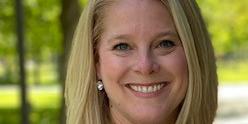 After a comprehensive search that included highly qualified candidates beyond the province of Ontario, the Board unanimously selected Ms. Jovanovski to lead the John McGivney Children's Centre (JMCC).

Jenn is an authentic, charismatic and collaborative leader, bringing exceptional communication and interpersonal skills, along with strong business intelligence. A champion of innovation, her leadership focuses on creating an inclusive culture that embraces change and continuous improvement, while keeping children and families at the centre of decisions. She has established strong relationships with JMCC's many network partners across Windsor/Essex and the province of Ontario.

A Windsor native, Jenn has over 20 years' experience in healthcare, including 10 years in management as Operations Manager of Inpatient Units at Erie Shores HealthCare, and at Hôtel-Dieu Grace Healthcare's Regional Children's Centre, in addition to Patient Services Manager with the Erie St. Clair Local Health Integration Network (LHIN) managing their Mental Health & Addictions Nurse Program, School Health Support, and Geriatric Rapid Response Team, among others.

She held the position of Director of Client Services at JMCC where she provided exceptional leadership, teambuilding and oversight of its Client Services Management Team, and its clinical programs and services across the organization.

Jenn is a Registered Nurse with the College of Nurses of Ontario. She has completed Lean Green Belt Project Management training, and recently completed the Public Sector Executive Leadership Course through the Rotman School of Management.

"Jenn brings strong qualities to the role. Her understanding of JMCC and its role as a partner in the children's treatment sector and support of our core values of collaboration, honesty, innovation, leadership and diversity, equity and inclusion are evident," shares Ken Kapustiak, JMCC Board President.

"This is an extremely exciting opportunity and I am truly honoured to lead JMCC," says Ms. Jovanovski. "JMCC has been recognized as the expert in children's rehabilitation services in Windsor/Essex for over 45 years, and I am thankful to previous leaders, and to the employees, network partners and the children and families JMCC serves who have built a strong foundation that we can leverage to achieve our vision as a centre of hope, support and inspiration, working together toward a future of empowerment participation and opportunity."

The Board wishes to recognize Paul Huras, interim CEO for his outstanding leadership and commitment to the organization for the past five months, and his assistance with the CEO recruitment process. "We thank Paul for his many contributions and wish him the best."

The Board welcomes Jenn to the CEO position and looks forward to working with her. "We are confident that she will make a tremendous contribution to JMCC and to our Windsor/Essex community."

Ms. Jovanovski begins her role as CEO effective August 14, 2023.


Return to News