Play McGivney is officially open!
September 5, 2017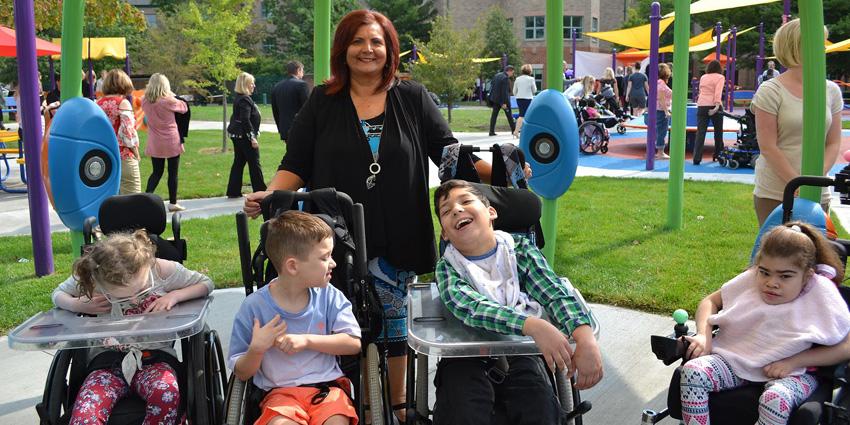 New west-end accessible pay area the only of its kind in Canada.

The space once separating Hôtel-Dieu Grace Healthcare (HDGH) and the John McGivney Children's Centre (JMCC) has now been transformed into a one-of-a-kind outdoor recreation and wellness area benefitting ages 1 to 101.

Crowds gathered Tuesday morning to officially unveil the new outdoor space and recognize the donors that made it possible. Mark Jones, local playground designer, also spoke on the uniqueness and magnitude of the project.

Hôtel-Dieu Grace Healthcare has officially named their space the LiUNA!625 Outdoor Recreation and Wellness Centre after the generous $300,000 dollar contribution by the local labour group. The outdoor space will serve as a therapy option for the hospital's rehabilitation patients and offer a unique exercise area for all patients, staff, volunteers and visitors.

"LiUNA! 625 is especially proud to partner with Hôtel-Dieu Grace Healthcare and the John McGivney Children's Centre to introduce this innovative and important lifestyle facility to our community," said Rob Petroni, Business Manager of the Labourers' International Union of North America for Windsor/Essex and Chatham/Kent. "Each year, our commitment to community grows as we strive to support institutions and organizations dedicated to the health and wellness of our citizens. This special 'age-friendly' facility will bring together young and old from all walks of life including LiUNA!625 Members and their families now numbering close to 4,000 throughout our region, " Petroni concluded.

JMCC's Play McGivney is an exciting and innovative fully accessible and inclusive space, where children and youth with special needs, their families, their friends and the community can play, learn and adventure together. Outdoor play stimulates communication, cognition, gross and fine motor skills along with social skills augmenting the benefits realized from therapy services. This new space will provide additional therapy space for JMCC clients as well as a place for inclusive fun for all. Play McGivney was made possible thanks to many donors who contributed to the $500,000 project.

"Thank you to In Honour of the Ones we Love as well as all the donors who supported the Play McGivney project," said Elaine Whitmore, CEO, JMCC." "Because of the generosity of our community, our vision to create an inclusive and accessible outdoor space for play, learning and therapy has become a reality."

JMCC will continue its celebrations this Saturday, September 9th from 10 a.m. to 2 p.m. at its Annual Super Hero Day, which will take place on the new playground this year. The general public is encouraged to come out for food, entertainment and activities at no cost. Event guests are encouraged to dress like their favorite Super Hero and enjoy Play McGivney!
Return to News