Join in the fun at Play McGivney!
September 19, 2017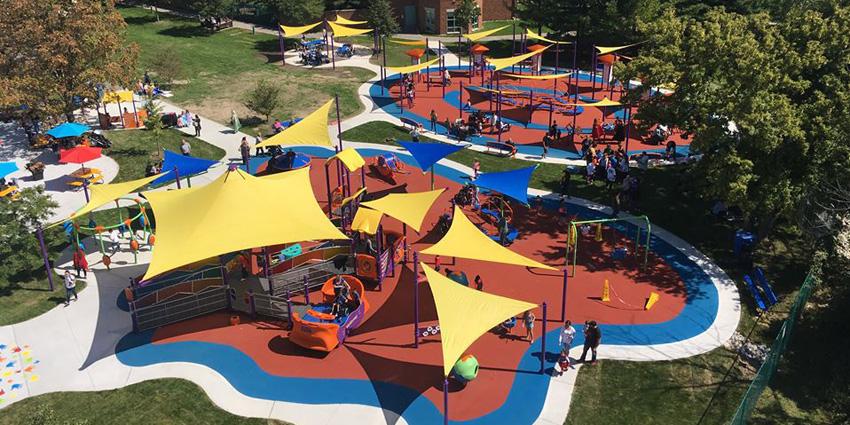 Windsor and Essex County has a new, fully accessible park! Play McGivney, located in the side yard of the John McGivney Children's Centre (JMCC), is open to the public and already being enjoyed by clients and families of the Centre and the Windsor and Essex County community alike. This exciting, innovative, fully accessible and inclusive space is the perfect place for children and youth with special needs, their families, their friends and the community to play, learn and adventure together.

"Play McGivney is an amazing addition to what we can offer our families, both during and beyond treatment sessions," said Elaine Whitmore, CEO, JMCC. "The variety of equipment and activities ensures that no matter a child's physical or cognitive abilities, they can still enjoy the space."

Play McGivney is joined by paths to the LiUNA!625 Outdoor Recreation and Wellness Centre at Hotel Dieu Grace Healthcare (HDGH), creating an open concept space for interaction and engagement for those of all ages and abilities. This joint outdoor space, the only of its kind in Canada, was designed by local playground designer Mark Jones of Playworld.

Play McGivney, was made possible thanks to many donors who contributed to the $500,000 project. "Because of the generosity of our community, our vision to create an inclusive and accessible outdoor space for play, learning and therapy has become a reality," said Whitmore.

Donors to Play McGivney included In Honour of the Ones We Love, Drive Fore A Cure, Motor City Credit Union, Windsor Disposal Service, Tim Hortons Smile Cookie Campaign, the Toldo Foundation, Universal Health Products, W.E. Care For Kids, The Rick Hansen Foundation, the Government of Canada, The Cohen Family Foundation, Enwin Utilities as well as many other supporters.

Hope to see you on the playground!
Return to News