JMCC receives Ontario Trillium Foundation Grant that will have a lasting, positive impact on the lives of youth with disabilities
April 28, 2023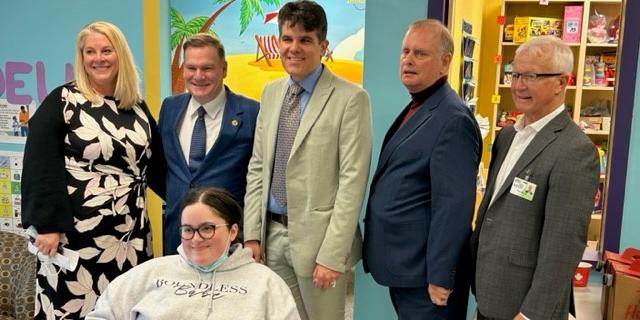 (Left to Right: Jenn Jovanovski, JMCC Director Client Services, MPP Todd McCarthy, MPP Andrew Dowie, Ken Kapustiak JMCC Board President, Paul Huras JMCC Interim CEO. Seated Faith Turner JMCC Youth Advisory Committee)
Today, the John McGivney Children's Centre (JMCC) welcomed Andrew Dowie, MPP Windsor-Tecumseh and Todd McCarthy, MPP Durham and Parliamentary Assistant to the President of the Treasury Board, to the Centre to announce a $184,000 Ontario Trillium Foundation grant.
"The COVID-19 pandemic resulted in additional barriers for youth with disabilities. It became more difficult than ever for them to find safe opportunities to access employment, learn important life skills, and prepare for the transition to adulthood" said Jennifer Jovanovski, director of client services at JMCC. "We worked together with our youth to identify their needs and determine the supports they required. JMCC then developed and piloted four programs over the course of three years."
Through the Job Skills, Transition to Employment, Transition to Adulthood Planning, and Life Skills pilot programs, 115 young people with disabilities learned important skills including how to get their first job, participate in paid work, on-the-job training, budgeting skills, advocating for themselves, and self-care and independence.
"These pilot programs were supported through some time-limited funding and therefore not sustainable long term," continued Jovanovski. "The Ontario Trillium Foundation Resilient Communities Fund grant will help JMCC to build our capacity and sustain our Transitional Support Programs for an additional two years. During this time, over 400 youth with disabilities will be able to participate in this program, leading to greater active citizenship and community involvement."
Mackenzie C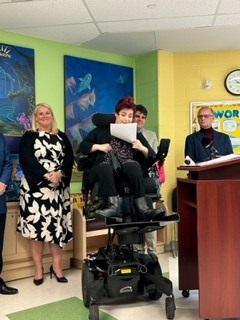 aradonna is 23 years old and a former JMCC client, and current member of the Youth Advisory Council. She was born with Cerebral Palsy and has been a client of JMCC since she was six months old, when she began physiotherapy and occupational therapy. "I participated in the Transition to Employment Program where I learned such skills as professional face-to-face and electronic communication, and conflict resolution with coworkers and supervisors. My experiences in the world of work started out a little rough, but I persevered and overcame my fears of not being 'good enough'. The funding the Centre is receiving today will have a tremendous impact on teens with disabilities who are transitioning into adulthood. Learning these life skills will empower the next generations to be more independent and allow them to thrive in society. We need to show the world that disabled people are unstoppable!"
"The John McGivney Children's Centre leads our Province in breaking down the barriers faced by youth with disabilities in our community." said Andrew Dowie, Windsor-Tecumseh MPP. "Additional barriers for their clients surfaced during the pandemic, and John McGivney answered the challenge with four targeted pilot support programs supporting active citizenship and community involvement. I'm delighted that the Ontario Trillium Foundation Resilient Communities funding will support this amazing program!"
"The impact of this Ontario Trillium Foundation Resilient Communities Fund grant cannot be underestimated," said Ken Kapustiak, JMCC board president. "This funding will have a lasting, positive impact on the lives of youth with disabilities in our community, setting them up for a future of empowerment, participation and opportunity."
Return to News