JMCC receives "Exemplary Standing" from Accreditation Canada
April 23, 2021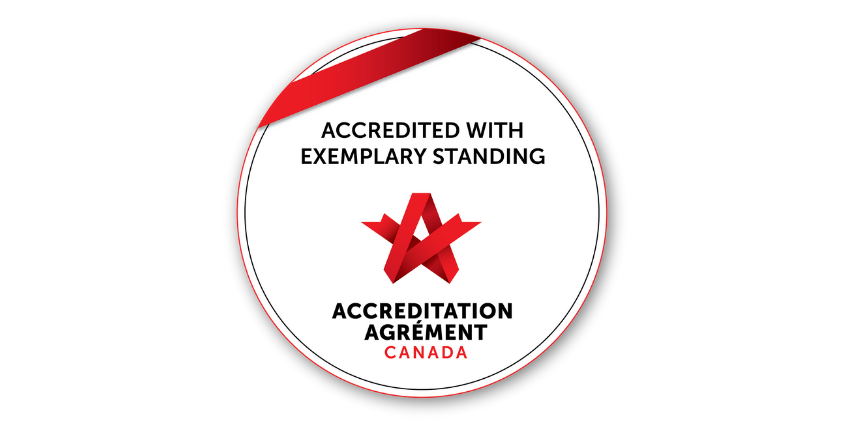 The John McGivney Children's Centre (JMCC) is pleased to announce that we were awarded "Exemplary Standing" following a thorough assessment of our services by surveyors from Accreditation Canada.

Typically, Accreditation Canada surveys take place on-site. However, a unique, hybrid virtual/on-site model was necessary for our process this year - and JMCC was ready to step up to this challenge! Our virtual survey involving interviews with all stakeholders including board members, staff, families, and many community partners took place over Jan. 18 and 19, and a safe, in-person site visit occurred on March 31.

At JMCC, we are committed to quality and safety in the delivery of our services and continuous improvement is integrated in our everyday practices. Therefore, we participated in this Accreditation Canada review as an important exercise to ensure we are continuing to provide the highest quality services safely to children and youth with special needs and their families in Windsor and Essex County.

"I am absolutely thrilled and extremely proud of our entire JMCC team for their work in preparation for the survey, during the survey, and each and every day," says Jessica Sartori, JMCC CEO. "Accreditation challenges us to meet national standards of excellence, and to continually improve the quality and safety of our services for our clients and their families. Our accreditation award is a real testament to the fact that everyone here makes quality and safety a priority in their important work helping children and youth with special needs reach their full potential."

Accreditation Canada surveyors reviewed JMCC's delivery of family-centred services, quality management, health and safety, human resources, communication, physical environment, and more. Receiving a result of Accredited with Exemplary Standing means that JMCC successfully met 95 per cent or more of nearly 1000 criteria reviewed, and also met all of the Required Organizational Practices (ROP) reviewed throughout the survey. This designation from Accreditation Canada lasts for four years.

"At JMCC we are dedicated to the children and families we serve and we are committed to helping their abilities grow. We participate in accreditation because we understand that both the highest quality of care and safety matter to our clients and families, to our staff and to our entire community," says Vince Laframboise, President, JMCC Board of Directors. "We believe that improving the quality of our services is a continuous journey - a journey to which we are fully committed. I am incredibly proud of all JMCC staff and know that we all continue to serve our community with the highest standards of care."

About the John McGivney Children's Centre: The John McGivney Children's Centre (JMCC) provides rehabilitation and support services to children and youth living in Windsor and Essex County. As the only publicly funded source of specialized paediatric rehabilitation expertise in the region, we support more than 3,000 children and youth annually with physical, neurological and developmental needs. In addition to providing the core rehabilitation services of physiotherapy, occupational therapy and speech/language therapy, JMCC offers social work, therapeutic recreation and resource navigation services to families and offers a wide range of specialty clinics on-site. Depending on the need, services are offered in our Centre, in schools and in our community. Since March 2020, in order to protect the health and safety of our clients and their families, our staff and our community in the wake of COVID-19, JMCC is proud to offer our families the option of virtual therapy services. Families are now able to choose whether they would prefer in person or virtual therapy services, or as is often the case, a combination of the two.
Return to News