JMCC Mother's Day Campaign: Meet Rafah
May 3, 2021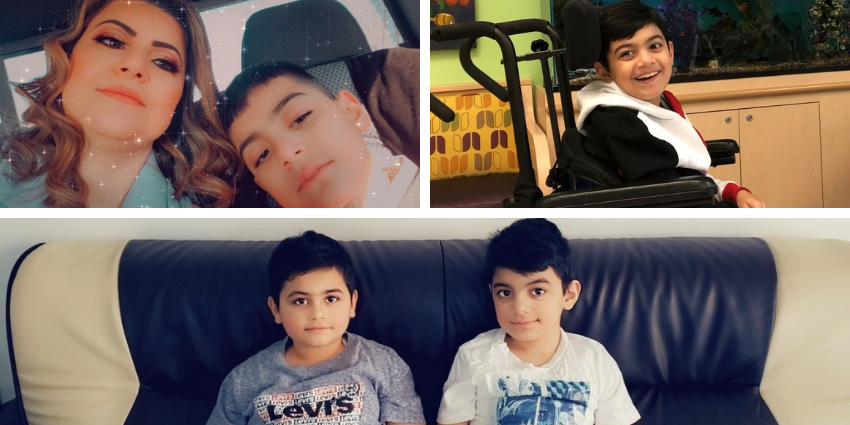 Spring brings sunshine, warmer temperatures, blossoming trees and flowers and a special day to celebrate moms and other important women in our lives.

At the John McGivney Children's Centre (JMCC), we are dedicated to enriching the lives of children and youth with special needs and their families in Windsor and Essex County by helping them reach their full potential. Each and every day we witness the impact that the support of a loved one can have on a child's development. In celebration of Mother's Day, it is our pleasure to share with you the story of one of our inspirational JMCC moms.

New Canadian Rafah and her two sons Lider and Ardalio moved from Toronto to Windsor in 2017. As newcomers to Canada from Iraq in 2012, language was a barrier for the family and they did not have access to transportation. Rafah was referred to JMCC for therapy services for her eldest son Lider, who has cerebral palsy. She was extremely grateful to have JMCC to support her son and the Centre quickly became an important resource for the whole family.

"The staff at JMCC are amazing. Not only are they extremely helpful with Lider's therapy, they also arranged for us to have transportation to and from our appointments and an interpreter present for therapy to make sure that I understood so that I could continue to work with Lider at home."

Rafah was thrilled to also have support from the Centre to set up their home, ensuring they had all the right equipment in place so it was accessible and safe for Lider to get around using his wheelchair and his walker. One of Rafah's favourite JMCC experiences was attending an Arabic parent support group targeted for newcomer families like hers. Together, the families had the opportunity to share their stories and struggles with one another, as well as learn from each other's experiences.

"From the beginning, our entire family has felt accepted and welcomed by everyone at JMCC. We are treated with respect and the entire team goes above and beyond in everything that they do, from providing excellent therapy to my son, to helping our family learn more about the services available in our community, and so much more."

The entire family is now feeling more comfortable and settled in Windsor-Essex and Rafah and her sons believe that JMCC has played a large role in that. Lider has excelled, reaching therapy milestones but also blossoming into a bright, independent and outgoing young boy, who had a few words to add about the Centre.

"JMCC is the silver lining in our life because the Centre and the employees are great!"

Rafah is so proud to be the mom of her two wonderful sons and she can't wait to see what their future holds! For Lider, that feeling of pride is mutual.

"My mom is very hard working and persistent! She is awesome!"

Through the support of our donors and community partners, we are able to continue to offer the best family-centred services and support to our clients and their families, like Rafah and her sons Lider and Ardalio. This Mother's Day, we encourage you to make a donation to JMCC in honour of an inspirational woman in your life. Each and every donation we receive helps us help abilities grow. Donate today.

At JMCC, we strive to be a centre of hope, support and inspiration for children, youth and families in Windsor-Essex. Together, we're working toward a future of participation, acceptance and opportunities. Your support of our Centre is greatly appreciated. We couldn't do what we do without the generosity of donors and community partners like you! Wishing you a wonderful Mother's Day and a beautiful spring!





Return to News