Giving back at JMCC: From summer camper to summer volunteer
July 25, 2017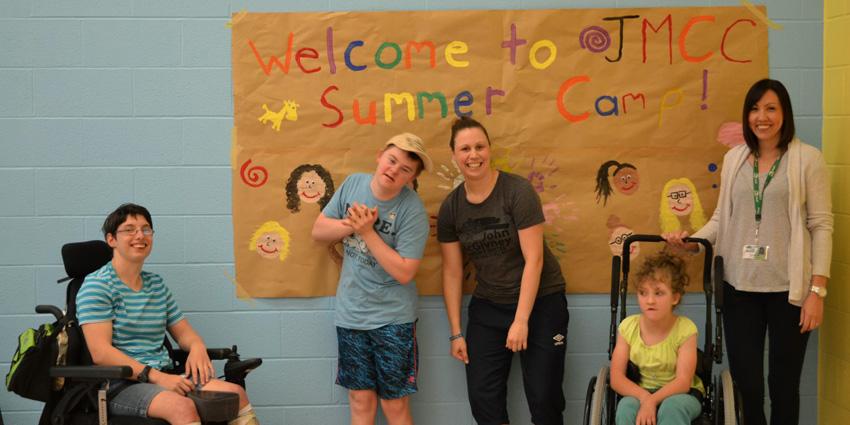 Bowling, swimming, gymnastics, crafts, music and cooking! These are just some of the activities that are enjoyed at the annual John McGivney Children's Centre (JMCC) summer camp by campers, counsellors and volunteers alike!

Brittney Robinet, a former camper, is now a proud camp volunteer. She loves being able to give back to the camp that she enjoyed so much as a kid!

"I used to be the one making the mess and now I'm the one cleaning it," she jokes about her longevity as a part of the summer camp program. She describes the importance of the camp experience as "giving children the opportunity to step out of their comfort zones and to see and trust new people, aside from their families."

As a volunteer, she sees herself in so many of the campers and highlights the value to these kids interacting with older people that share similar characteristics with them; in her case, being in a wheelchair. To see and interact with grown-ups in their position provides kids with the opportunity to understand what their abilities will allow them to accomplish in the future.

Robinet's relationship with JMCC goes far beyond summer camp. She attended pre-school and therapy at JMCC, began volunteering at 16, and was honoured with the John H. McGivney Bursary upon her graduation from high school in 2014. Now 21, Brittney enjoys the multiple perspectives she has gained having both attended and assisted at the Centre.

"JMCC caters to so many abilities… it is a whole building full of professionals going above and beyond to find everything that works for each individual child's needs," Brittney explains about JMCC. From the school to therapy that's offered, to the summer camp: "It's a big community here."

At JMCC, we are committed to helping children and youth achieve their full potential. Witnessing Brittney, one of our alumni, setting such a meaningful example for our JMCC kids through her work as a volunteer, is a wonderful example of our vision being realized!
Return to News