Fine Motor and Gross Motor Activities for the Holidays
December 23, 2019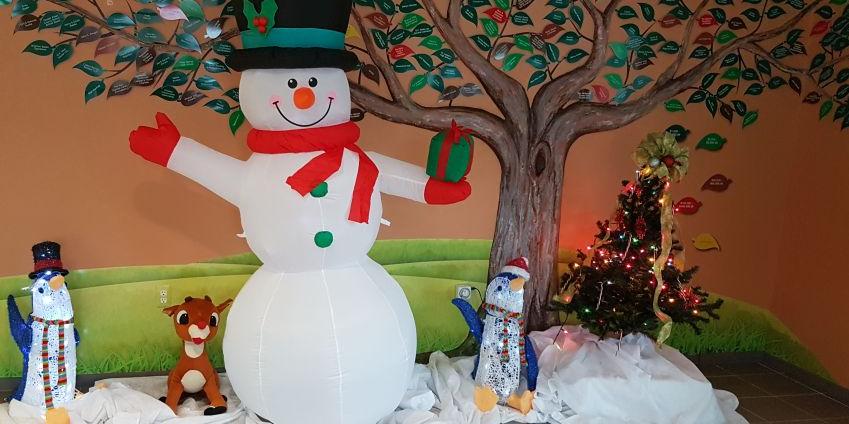 John McGivney Children's Centre (JMCC) Occupational Therapists put together a list of fun, family acitiviies to work on fine motor and gross motor skills at home this holiday and winter season.

Fine motor activities to encourage hand and finger strength, visual motor control (pencil and scissor skills) and dexterity:
Roll and knead cookie dough or bread dough; use cookie cutters to cut out different shapes.
Make a gingerbread house and decorate using small candies.
Draw/colour a picture of you and your favourite holiday present/treat/tradition.
Make crafts over the holidays, such as ornaments and table decorations.
Cut strips and make a chain to decorate the house, a mantle or a door.
Cut out snowflakes to hang in the windows.
Help wrap gifts (cutting the paper to the correct size, tying ribbons and bows, etc).
Decorate presents with cut & paste shapes, pompoms, feathers, peeled holiday stickers, etc.
Personalize Christmas stockings with pompoms, glitter glue, etc.
Do holiday themed mazes, dotdots and tracing. You can find many worksheets on the internet.
Letter formations and printing activities:
Make cookies into letters.
Draw letters in shaving cream, whip cream, pudding or soap on a mirror or cookie tray.
Sign name on family holiday cards.
Make greeting cards/thank you cards for gifts received.
Help write the grocery list for holiday dinners.
Gross motor activities to work on balance, upper-extremity coordination and control:
Make snow angels and snowmen.
Play catch with snowballs or throw at a target (no snowball fights!)
Play catch with crumpled up wrapping paper balls; throw these balls into different empty present boxes or onto each stair-step.
Have wheelbarrow races in the snow.
Go skating or tobogganing.
Go for a walk in the snow.
Return to News