Consider Donating this Holiday Season!
December 2, 2019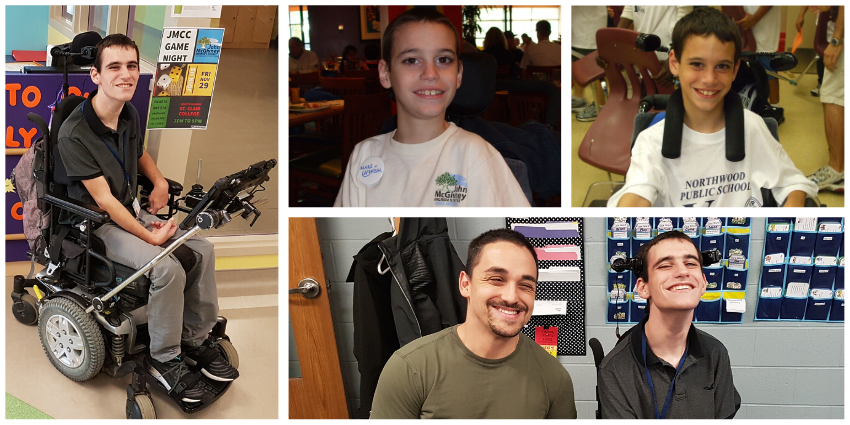 Happy Holidays from all of us here at the John McGivney Children's Centre (JMCC)! We are proud to serve Windsor and Essex County, enriching the lives of children and youth with special needs by helping them reach their full potential.

At JMCC, our clients and their families are at the heart of everything that we do and through the support of our donors and community partners, we are able to continuously develop new and innovative ways to assist our families. Your donations allow us to purchase new and important therapy equipment, enhance our programs and services, tackle new research projects and so much more!

It is our pleasure to share with you our inspirational client family stories.




At birth, Nicholas Irvine was given a life expectancy of 24 hours. Today, he is a 22-year-old St. Clair College student. Needless to say, Nic and his family have been breaking down barriers from day one.

When it became clear that Nic was going to beat the odds, it was important to Adelina Irvine, Nic's mom and his biggest advocate, that he have the best quality of life possible. That is when they were referred to the John McGivney Children's Centre. Adelina credits JMCC for being an invaluable resource for families when they need it most. She describes feeling terrified with Nic's diagnosis, but finding JMCC was the light at the end of a dark tunnel.
"JMCC to me is HOPE! The Centre has impacted our lives more than words can describe. It is a family environment. The connections we've made at JMCC don't just end with Nic being integrated to adulthood, they will last a lifetime."
As part of Nic's marketing program at St. Clair College, he is completing a co-op placement at JMCC. He is thrilled to be back in the building, this time as an intern, using his skills to benefit the Centre and seeing some of his therapists who have become his life-long friends. Nic is forever grateful to his JMCC team. Because of his work with them over the years, he has become an independent young man. He has increased his physical mobility, improved his balance and is a pro-driver of his power chair. He is also able to drink with a straw and eat safely. And, with the help of his assistive device, he has his voice. This device not only helps Nic communicate, but it is also his access point to the important technology that he needs to succeed.
"If it weren't for the Centre and my therapists, I wouldn't be where I am today. JMCC means children with special needs can grow into smart and successful people."
For Adelina, she couldn't be more proud of the young man that Nic has become and she is looking forward to seeing what future barriers he will break down on the way to achieving his goals.
"As a mom, Nicholas being back fulfilling his co-op at JMCC fills my heart with hope. The hope that he can achieve his dreams to be independent, educated, goal-orientated and employed. For a child that was given a life expectancy of 24 hours to today being a college student, this is more than anything a mother could ask for."

Through the support of our donors and community partners, we are able to continue to offer the best family-centred services and support to our clients and their families, like Nic and his family.
At JMCC, we strive to be a centre of hope, support and inspiration for children and youth with special needs and their families. Together, we're working toward a future of participation, acceptance and opportunities. Your support of our Centre is greatly appreciated. We couldn't do what we do without the generosity of donors and community partners like you!
Donate today!
Return to News