Community Collaborations and Partnerships at JMCC
February 20, 2018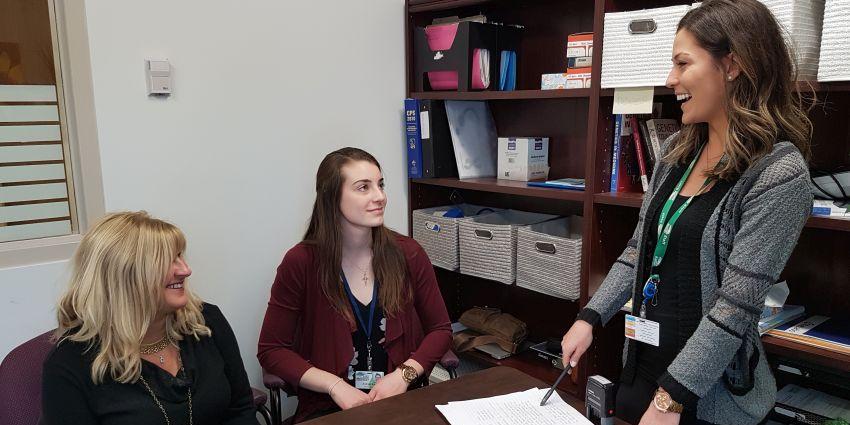 At the John McGivney Children's Centre (JMCC) we pride ourselves in offering a wide range of programs and services to support children and youth with special needs and their families. In addition to our core services of physiotherapy, speech therapy and occupational therapy, we offer services to children with a diagnosis of autism through the Ontario Autism PRogram, in partnership with Thames Valley Children's Centre. Furthermore, through partnerships and collaborations in our community and across the province, we are able to offer a number of specialty services and host various medical clinics on-site. Several of these clinics, if not offered at JMCC, would require families to travel out of Windsor for their appoitnments. These same specialty services and medical clinics allow our families to meet with their child's entire care team at once, working together to formulate a consistent and coordinated treatment plan. Additionally, these same partnerships and collaborations allow our staff to learn from and share knowledge with their colleagues which has a positive impace on their professional development.

The specialty services and medical clinics currently offered at JMCC as a result of community partnerships and collaborations include:

Autism Screening Clinic: In partnership with the Summit Centre for Preschool Children with Autism a monthly, joint Autism Spectrum Disorder (ASD) Screening Clinic is offered at JMCC. This interagency clinic provides an opportunity for families of children receiving services through JMCC to share and discuss concerns with Dr. Marcia Gragg and a graduate practicum student from the University of Windsor, as well as JMCC staff to determine whether further ASD assessment is required. This collaboration between JMCC and the Summit Centre has helped to build capacity and understanding amongst JMCC staff as well as provide practical recommendations and helpful information to families.

Cleft/Lip/Palate/Craniofacial Dental Program: Run in partnership with The Hospital for Sick Children (SickKids), the regional Cleft Lip and Palate/Craniofacial Dental Program at JMCC provides assessment and consultation for individuals diagnosed with a cleft lip and/or palate, craniofacial condition and some severe dental conditions. To refer an individual to this program, please complete the referral form. Visit the clinic page for more information.

Feeding Clinic: In partnership with Regional Children's Centre (RCC), JMCC offers a joint Feeding Clinic to help kids aged 6 to 12 with feeding needs impacted by mental health challenges. Occupational therapists (OT) at JMCC work with clients to help them become more comfortable with feeding and mealtime, whether it be getting used to sitting at the table, holding utensils properly, getting the food to the mouth, swallowing etc. However, OTs were noticing that some clients being referred also had anxiety or other mental health concerns that were impacting feeding. Therefore, in partnership with the mental health experts at RCC, these children can receive counselling in conjunction with OT sessions. RCC staff and JMCC staff consult with one another and work together to create a treatment plan that will work best for each family. By combining resources and expertise, the joint feeding clinic will help kids to achieve their eating goals.

Genetics Clinic: JMCC is home to the Windsor Genetics Out-Reach Program of London Health Sciences Centre (LHSC). The Windsor Genetics Out-Reach Program provides comprehensive services in medical genetics to individuals, couples, and families in Windsor and surrounding area, in a caring, respectful, and compassionate environment for all patients. The purpose of genetic assessment is to evaluate individuals or families who are, or think they are, at risk of having a genetic condition that could be passed on to their children. A medical referral is required to access this clinic.

Orthopaedic Clinic: In partnership with LHSC, a Paediatric Orthopaedic Clinic is run at JMCC for children and youth who require a musculoskeletal (bone, joint and muscle) assessment by a paediatric orthopaedic surgeon. If you are receiving services through JMCC, you, your family and your therapy team will discuss the need for a referral. If you are not currently receiving services from JMCC, we will arrange for you to come in for a screening assessment to determine eligibility for the orthopaedic clinic at JMCC. A medical referral is required for this clinic.

Rheumatology Clinic: In partnership with LHSC, a Paediatric Rheumatology Clinic is offered at JMCC for children and youth with a rheumatic condition which involves autoimmune and musculoskeletal conditions. Clinicians from LHSC Children's Hospital which include paediatric rheumatologists, nurses, physiotherapists or occupational therapists will assess your child at JMCC and provide a treatment plan and appropriate follow-up. If you're a new patient to paediatric rheumatology or need to be seen more frequently you may be required to travel to London. A medical referral is required for this clinic.

Transition Clinic: Our Transition Clinic offers an opportunity for families to meet as a team with their child's therapists to plan for the continuation of therapy and other services offered in the adult sector. The Clinic is led by a physician to ensure medical needs are identified and suggestions for medical follow up are relayed to the individual's family physician. Information is provided on available community resources for leisure activities, respite, housing and financial support. The Clinic is offered to youth ages 18 to 21 years of age currently receiving services from JMCC. To request an appointment contact your child's therapist.

Return to News