Community Collaboration Breaks down Barriers to Employment for Youth with Physical Disabilities
June 3, 2021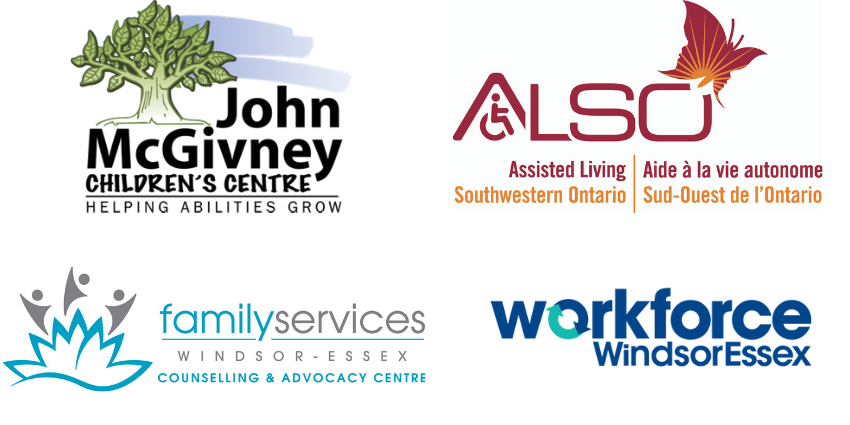 It's National AccessAbility Week in Canada! Thanks to funding from the Canada Summer Jobs Program, the John McGivney Children's Centre (JMCC) is thrilled to announce that together with Assisted Living Southwestern Ontario (ALSO), Family Services Windsor-Essex (FSWE), and Workforce WindsorEssex (WFWE), JMCC alumni with physical disabilities have access to a new job training program and full-time paid employment this summer.

Following their successful completion of a recruitment process and interviews, six JMCC alumni are participating in an employment training program as they gear up for full-time paid employment opportunities starting in July. The diverse jobs will be spread across all the organizations involved in this partnership.

"The mission of JMCC is to enrich the lives of children and youth with special needs by helping them reach their full potential. This summer jobs program is perfectly aligned with that commitment," says Jessica Sartori, CEO, JMCC. "I am thrilled to be working with our local partners to offer this program, allowing JMCC alumni to learn new skills and gain valuable employment experience, setting them up for even more future successes."

With the help of a dedicated team of JMCC staff, these young adults have begun taking part in job skills training sessions and will also have the opportunity to connect with adults with physical disabilities that have found full-time employment. Content for the job training sessions includes tips on how to focus on their strengths, practical suggestions for talking about their disability, enhancing conflict resolution and problem-solving skills, and strategies for positive mental health. Throughout their employment this summer, participants will have access to a job coach from JMCC that will be able to provide mentorship and assistance.

"At ALSO, it is our belief that young people with disabilities do not always have the same access to the summer job experience as able bodied students. This experience is an important building block for future employment," says Lynn Calder, Executive Director, ALSO. "We also believe that the way to bring about change is to be that change. It is important that employers and the public in general see people with disabilities in the work force as normal and not an intimidating exception."

The Canada Summer Jobs Program is a federal government initiative that provides funding to organizations to hire young Canadians between the ages of 15 and 30 for paid work opportunities so that they can grow professionally and improve their skills in the not-for-profit, small business, and public sectors. This year a record number of jobs are available for youth in in our region and all organizations involved in this partnership are extremely grateful to our local MPs Irek Kusmierczyk and Brian Masse, as well as to the Government of Canada, for making this Transition to Employment program a reality in the City of Windsor.

"FSWE is excited to work with JMCC, ALSO, and WFWE on this new partnership to support youth with physical disabilities," says Joyce Zuk, Executive Director. "We envision a community where everyone is valued and included. Removing the barriers that prevent young people from gaining a summer career opportunity is one way that we can contribute to the promotion of inclusion in Windsor-Essex. Our agency also benefits from the talent of young people."

This sentiment is echoed by WFWE.

"We're excited to offer a new summer job for a JMCC alumnus through this new partnership. JMCC's already impressive commitment to serving children and their families is going one step further today by helping their graduates gain employment experience. Partnerships like the one announced today and other employers who take advantage of the Canada Summer Job program help local youth jump start their career," says Justin Falconer, CEO, WFWE.

Leaving No One Behind is the theme of this year's National AccessAbility Week. By removing barriers and offering employment training and opportunities to youth with physical disabilities, this jobs program aims at creating a more inclusive Windsor-Essex where no one is left behind.

"By working together, this summer jobs program will help support a future of participation, acceptance, and opportunities for everyone," says Jessica Sartori, CEO, JMCC. "We are excited for our JMCC alumni and all of the organizations involved."

About the John McGivney Children's Centre: The John McGivney Children's Centre (JMCC) provides rehabilitation and support services to children and youth living in Windsor and Essex County. As the only publicly funded source of specialized paediatric rehabilitation expertise in the region, we support more than 3,000 children and youth annually with physical, neurological and developmental needs. In addition to providing the core rehabilitation services of physiotherapy, occupational therapy and speech/language therapy, JMCC offers social work, therapeutic recreation and resource navigation services to families, as well as a wide range of specialty clinics on-site. Depending on the need, services are offered in our Centre, in schools, and in our community.

About Assisted Living Southwestern Ontario: Assisted Living Southwestern Ontario (ALSO) provides service to Adults with Physical Disabilities, survivors of Acquired Brain Injury, adults with Mental Health Disabilities and Seniors. We provide Supportive Housing, personal care in homes, assistance with tasks of daily living, Adult Day Programs, Employment Supports, Rent Supplements and Crisis Intervention and Prevention. We are funded by the Ministry of Health, The Ministry of Children and Community Services, and the City of Windsor. We are always looking at innovative ways that we can address community challenges. We believe that no one should have to call a hospital "home". We are committed to equity, accessibility and collaboration. We are portable, nimble service that meets people where they are with what they identify they need.

About Family Services Windsor Essex: Family Services Windsor-Essex (FSWE) provides support to build resiliency and restore people's ability to choose their own place in the world. We deliver counselling, community support programs, and Employee Assistance Programs.? We provide voluntary programs that meet the needs of people in our community, when they need it.?We aim to support communities and families and strengthen people to build sustainable livelihoods.? When people come to FSWE, we hope that they feel valued and included?, become mentally well, their basic needs are met?, and that together we all make Windsor-Essex a better place to live.

About Workforce WindsorEssex: Workforce WindsorEssex (WFWE) is a workforce and community development board whose mission is to lead regional employment and community planning for the development of a strong and sustainable workforce. Workforce WindsorEssex is an experienced leader in the development of regional labour market tools, research, guides, and events that create positive change in the local labour market while saving others time and effort. These resources, created in close coordination with employment, education, and industry partners, are designed to help job seekers, employers, students, and educators, as well as the community, make more informed labour market decisions using locally-responsive, data-rich, and unbiased resources.
Return to News