Back-to-School Boost: Improving Skills & Confidence with JMCC Summer Workshops
September 9, 2019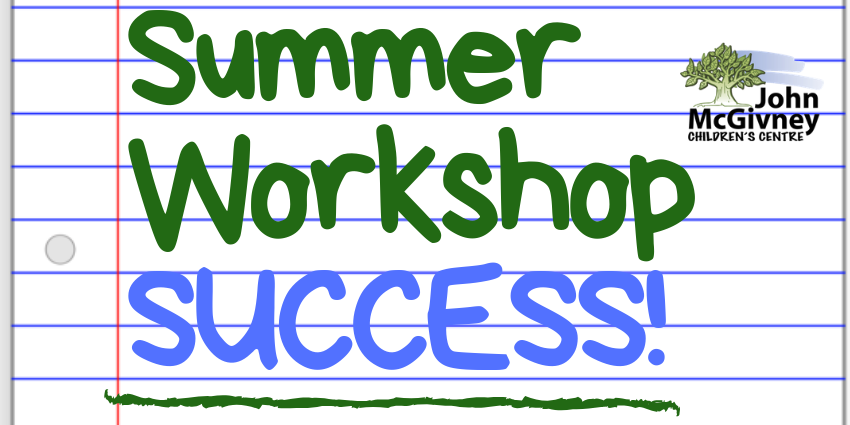 Many local students are better prepared for back-to-school this year thanks to the John McGivney Children's Centre's (JMCC) occupational therapy team! The Centre's occupational therapists (OTs) hosted a series of summer workshops for community school students to help improve their skills while on summer vacation and students and parents alike have given them an A+!

These 2019 Summer Workshops targeted handwriting skills with a printing club, fine motor skills with an arts and crafts club and all-around eating skills with a food discovery course.

"Connor's pretty shy and was excited for a summer without homework so I wasn't sure how he'd react to these programs," says Mike Woolcock whose son attended the printing workshop. "He never used to be interested in drawing or colouring but I've noticed an improvement over the summer. He loves coming to JMCC and the club has really opened him up and given him more confidence!"

JMCC OTs have been working in community schools for decades assisting teachers and working with students on the development of motor, self-regulation and self-care skills. However, these in-Centre workshops designed specifically for community school students are relatively new and incorporate playful and recreational aspects.

"Our goal is to incorporate the learning in fun and practical ways which increases kids' motivation and ultimately, helps them gain more confidence and advance their learning," says Beth Hennessy, JMCC Occupational Therapist. "It's especially crucial to reinforce these learning areas during the summer to offset the school break and encourage continued growth at home."

The workshops are hosted with parents and guardians present to see what and how their child is learning as well as to receive individual feedback from OTs at the end of each session with useful tactics to help children further strengthen their abilities.

"The workshops have been so beneficial to both of us since the OTs are teaching me how to help Mateo at home as well," says Giulia Carchedi whose son participated in the printing club. "He's now holding his pencil correctly and has more confidence in his drawing. This is something he would never have done at home so it's taken a lot of pressure off me. I wish we could come every day!"

Kids have already requested to sign up for next summer's workshops which is wonderful news! Stay tuned for announcements on future workshops just like these!
Return to News