Adaptability and Flexibility: Providing School-Based Rehabilitation Services during COVID-19
March 22, 2021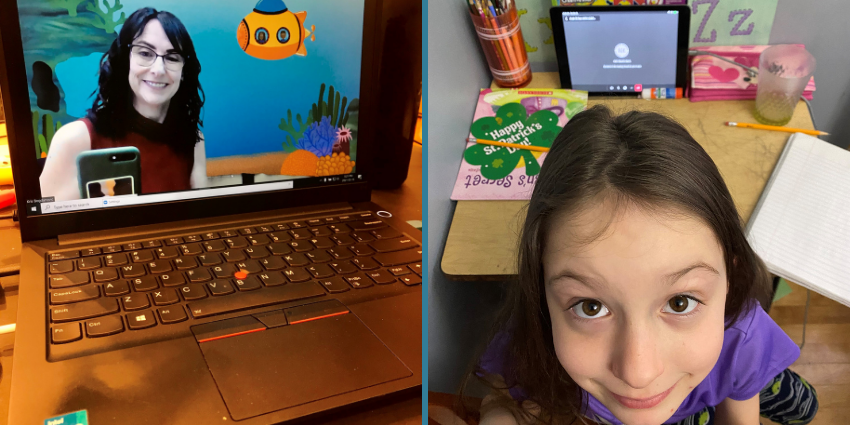 Through the School-Based Rehabilitation Services program, John McGivney Children's Centre (JMCC) clinicians provide physiotherapy, occupational therapy and speech therapy services to children and youth enrolled in publicly funded schools in Windsor and Essex County. This program exists to ensure that children are able to attend school, participate in school activities and receive instruction, while also receiving the therapy services they need to succeed. Typically, JMCC therapists will see clients in schools during their school day. However, this past year has been anything but typical and therefore, together with our partners from our four local school boards, JMCC clinicians showed flexibility and adapted quickly in order to continue providing necessary services to clients, while keeping everyone safe.

"This year has been tough, but also one where I am the most proud of what I do and the people I work with," says Kris Bogdanovic, Speech Language Pathologist, JMCC.

When school did not resume after March Break in 2020, JMCC clinicians kept in touch with families by phone and by email and were able to be online providing virtual therapy services by mid-April. Switching to virtual therapy was a challenge, with access to technology and connectivity issues causing difficulties, and it definitely presented a learning curve for all. However, by working together and supporting one another, the JMCC team soon excelled, being able to share screens, create green screens, develop PowerPoint activities and more, while ensuring they were offering meaningful therapy sessions for their clients and families. JMCC client families were also able to benefit from the school boards' technology lending programs and the Centre also obtained some tablets and laptops through donations to assist families in ensuring they had access to the technology they required. The team even found that there were some benefits to virtual therapy that were not possible while providing services to kids in person in schools.

"Virtual therapy has been great for parent coaching and support – something that I was not able to do when providing services in schools. I have the greatest admiration for parents as they managed their child's online learning and attended virtual therapy sessions," says Bogdanovic. "I knew nothing about virtual therapy before COVID, and now I see the immense value it can provide families and I know it will be a permanent option in my delivery model for years to come."

When Frances Keech's daughter Natasha began junior kindergarten in 2018, her speech was not as developed as other children in her class. Her teachers and the school staff recommended she begin receiving therapy services with the help of JMCC and took care of all the referral details. Since beginning her speech therapy, Natasha has gained increased confidence while speaking, and now reading. In March of 2020, when all in-person instruction was stopped, Keech was impressed with how quickly Bogdanovic was in touch to set up virtual therapy.

"There was a great effort on the Centre's part to keep the support in place during a difficult time. With a reminder call a day or two beforehand, and meeting links directly sent to my email, it was easy to attend. Moving to the virtual platform was an amazing experience for our family. Although we missed the in-person connection, Natasha was able to climb mountains with her progress, pandemic aside," says Keech.

Virtual therapy was not the only thing that changed this year. With students switching between online school and in-person school, the JMCC team had to adapt to ensure all the safety protocols were being followed when it was deemed safe for clinicians to return to work in schools.

"All summer we worked closely with our school board partners and our professional colleges to understand what was required in terms of PPE, cleaning, screening, room usages and more," says Mileva Vuletic, Program Manager, School-Based Rehabilitation Services, JMCC. "We had to make sure we were aware of all the protocols and taking all the necessary precautions to keep kids and clinicians safe."

For the occupational therapy team, their participation in their classroom consultative model was limited this year. This model involves recurring classroom visits to assist teachers and students. JMCC OTs adapted their work, conducted more one-on-one and virtual sessions and ensured they were still consulting often with teachers and school staff. The team also showed great enthusiasm in posting online resources such as videos and tip sheets, accessible by school staff and families. Our physiotherapy team continued to provide in-person services in-schools, following all health protocols, in order to address equipment and safety needs. They also saw clients safely in Centre for therapy, to ensure they continued to make the desired gains.

A recent development in school-based therapy services, has been the ability to bring groups of children and youth together to work on similar skills. Obviously, this year this is not something that could be done in person, but virtual therapy has provided a new and often more convenient platform to conduct group therapy for school-aged children.

Amanda Filbey and Kristy Davis, speech language pathologists at JMCC have been running a virtual group called The Fluency Connection. This six-week program focuses on establishing a community of like-minded peers in which they can share their unique experiences of stuttering. Concepts such as mindfulness and emotional regulation are embedded into the programming. The ultimate goal of this group is for children to leave feeling connected and empowered knowing that they have acquired effective and powerful coping skills to manage their stuttering in a way that best serves their unique needs. Here are some things that some participants had to say about the group:
"I like meeting lots of people, connecting to friends, seeing other people like me."
"I like to meet new people who suffer the same anxiety as me!"
"I like how I get to meet other people who stutter because in my class I'm the only one who stutters"
Virtually, and eventually in-person, when deemed safe, group therapy is something that JMCC plans to continue as this has proven to be an effective and beneficial therapy method for children and teens.
The success of school-based services, either virtually or in person, is based on meaningful partnerships between JMCC, the school boards, school staff, and the children, youth and families receiving the services.
"School-based services has changed a lot in my 30 years of service, but the objective has always remained the same and that is to help our kids reach their full potential and provide families with the support and encouragement they need to achieve this goal," says Bogdanovic.
Return to News